I could say a lot. This week has been crazy, coming back from a week in Cali just hit hard. There was no 'ease' back into it, I had to hit the floor running. So where to begin…
Confession…In the last 24 hours I have called over 50 apartment buildings, wrote over 25 Craigslist emails and went into five apartments. Doozy. In this process I found an overpriced apartment without a kitchen that I may just have to take. It hurts me to say that. I also found a beautiful studio, fitness center/pool, great location… wait for it, a little more expensive than I would like and my boss lives there. I think the expensive part is what gets me. I know I could afford it but it means I can't spend money a lot outside of it. The thing is, my parents want to help cover like 100-200$ worth of it but I feel bad making them do that. I don't know what to do! Every place I look has this dilemma, do I live in a gross place/inconvenient place to pay nothing or live someplace I like and be broke? This is so tough for a girl who doesn't like to spend money. So torn. Then there is a basement apartment in a home with an much older couple, it has its own kitchen, entrance, etc. They seem adorable and are super particular about who lives there so they want to meet me. How do you impress old people? Did I add the bonus both are available within the next week?
Confession…I have been devising budget plans for the last week. I have finally been able to nail down how much a week to spend on groceries and the metro. I also know joining a gym won't be an option, yes no Bikram I loved so much either. That means I may invest in a weights set or dvds so I can at least strength train to prevent injury. I am not going to lie, I am still pretty bummed I can't do group fitness classes. I miss them terribly. Going off of that…
Confession… I hope this doesn't come off as rude but I get really frustrated with the ability some people have (whether financially or time wise) to devote to eating/exercising/healthy living/blogger trips/blogging in general. I know that is the point of this healthy blog community but at the same time if I had hours in the day to make that smoothie, or money to attend a gym and crossfit, I would be in heaven. Sadly, I don't. Wait, that sounds more like jealously Alex. Green does not look good on you.
Confession…on the metro yesterday I had to hold myself back from snapping a picture of a lady and her dog. I realized it was quite stalkerish of me doing it. Blogger problems for sure. Tangent- have you seen that news story about the lady who took a picture of a couple she thought was getting engaged and has been desperately trying to hunt down? So strange, I mean the people ended up contacting the news and telling them they wanted to remain anonymous and they were not getting engaged just reenacting when they did. Seriously, the lady with the camera needs to control herself.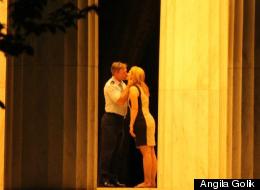 Confession…I have been loving the new blogs I follow. Even having email exchanges with some bloggers makes my freaking day. This community is so supportive, I want the comments I get to be plastered to my face each night when I start complaining. They always ground me and have the best advice.
Confession…It makes me laugh that so many people have dived into Arctic Zero after that review I did. You are all making me want more!
Confession… I will probably be staying with my dad in his hotel every night. I need a break, I need sleep and I know a hotel room will cure them. No triggers of the apartment for at least a few days. Plus, I feel like I don't belong. He has moved all his stuff here so they are just in boxes around, I feel bad taking up space with my food so I barely have any around, they eat dinner together each night and I feel like I am intruding by sitting watching tv and blogging. I just feel in their way. 
Confession… I have been failing on the blogger meet up planning. I swear my DC friends I will pull it together. Apartment hunting is taking over my life currently. When I get my own place you better all be prepared for a potluck brunch!
Confession… if you didn't already see, I caved and got a medium iced Dunkin Donuts coffee yesterday. Boy, did I need it. Rough night made 1000x better – thank you Jenna for the push.
Confession….I think I may take up meal planning. I know, if you know me that is a huge deal. I always hide from meal plans or any sort of pre-planned preparation but I am just in a food funk. I want to try new things and get creative in the kitchen. Also, I definitely am not buying enough food altogether. Spending $30 a week is barely scraping by but I do it. Planning a recipe to make each night would make I think could help me in the long run. This guilt of spending money needs to end.
Confession…the front desk lady of where I live now hates me. I mean actually down right hates me. I think it started with me getting a lot of packages (whoops) and then getting locked out (second whoops). I asked her for the mail and she was sitting in this chair. She looked at me and said 'does it look like I want to get up and get your mail.' I took that as a no. Can I move yet?
Confession… you remember that Healthy Surprise box I got? Well now you can get $5 off your order by using the code therunwithin. Go do it… now! 
Confession… I am still in awe of people not wanting to throw things at me for all my complaining I have been doing on the blog lately. I swear I am not normally a negative nancy. Did I mention you all rock?
My dad comes today! Yipeeeeeee
Questions: What are your Thursday confessions? Any special things happening to you today?